Google Caught Rigging Searches Again: Fined $21 Million By India For Search Bias
Posted on Sunday 11 February 2018, - - NEWS - Permalink
SHARE THIS WITH YOUR SOCIAL MEDIA -
Google Caught Rigging Searches Again: Fined $21 Million By India For Search Bias
SHARE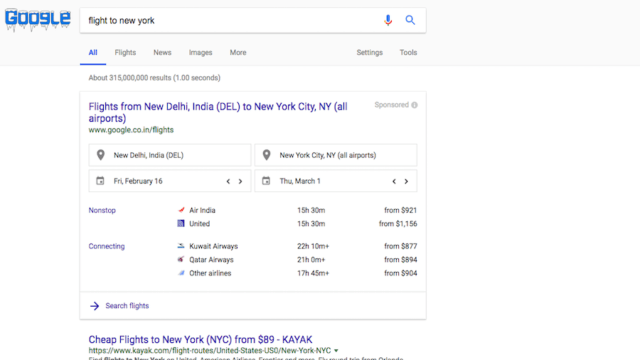 Google, it seems, is finding it hard to resist the temptation to misuse its near monopolistic hold in the search domain. After being fined for €2.42billion by the European Competition Commission for favouring their own comparison shopping service, the search giant has run into trouble with Indian authorities this time.
Competition Commission of India, the watchdog of fair competition in India, had found Google routing the flight-related queries towards its own flight search service. The CCI said the company has abused its dominant position on three counts largely pertaining to search, in its 190-page order on Thursday. This practice directly harms the competitors (start-ups the most) and is unfair to the consumers as well.
A penalty of 5% of average revenue generated from India over three years from FY12 to FY15, amounting to $21 million, has to be deposited within 60 days. The penalty can increase up to 10% as stipulated under the country's competition laws. The complaint was prompted by Matrimony.com and Consumer Unity & Trust Society (CUTS) in 2012 against Google LLC, Google India Pvt. Ltd. and Google Ireland Ltd. for abusing its dominant position to suppress the competition.
In response to CCI order, Google said: "The Competition Commission of India has confirmed that, on the majority of issues it examined, our conduct complies with Indian competition laws."
The allegations of competition malpractices against Google has been increasing of late and the startups which used to look up to Google as The Platform are now concerned. Google has revolutionised the information access system globally. Its effort to evolve along with the growing needs of the users is commendable, however, it is to be seen that the giant does not stifle the growing entrepreneurs. After all, power corrupts…
PEOPLE FLEEING 'SHIT-HOLE' SAN FRANCISCO IN DROVES AS CALIFORNIA FRACTURES WITH U.S.
| BY DONN MARTEN
SF Homosexual ANTIFA TERROR GROUP "Al-Queerda" is 'The Last Straw'
They may be leaving their hearts in San Francisco but an increasing number of people are choosing to get the hell out of the socialist utopia by the bay and a sanctuary city that values illegal alien murderers more than its actual citizens.
In a bit of news that should really come as no great shock to anyone who understands what a shithole that liberal-infested California has become, San Fran residents are bolting in the highest numbers in over a decade.
Not only is the cost of housing astronomical but the streets stink of urine and vomit due to being filled with vagrants, illegal immigrants are treated like royalty and the city and state government is has become a one-party totalitarian dictatorship, but it is still sodomite city USA.
Then there is the message sent by a jury that allowed a scummy criminal illegal who shot an innocent woman in Kate Steinle walk free to send a political message to President Trump.
Nice place isn't it.
Not according to those making the exodus.
A new study suggests more people are leaving the San Francisco Bay Area than are coming in. http://cbsloc.al/2FZ1unA

The number of people packing up and moving out of the Bay Area just hit its highest level in more than a decade.

sanfrancisco.cbslocal.com
Via San Francisco CBS affiliate KPIX-5 "San Francisco Bay Area Experiences Mass Exodus Of Residents":
The number of people packing up and moving out of the Bay Area just hit its highest level in more than a decade.

Carole Dabak spent 40 years living in San Jose and now she's part of the mass exodus that is showing no signs of slowing down.

The retired engineer's packing up and calling it quits about to move to the state of Tennessee.

"I loved it here when I first got here. I really loved it here. But it's just not the same," Dabak said.

Of course people come and go from the Bay Area all the time, but for the first time in a long time, more people are leaving the Bay Area than are coming in. And the number one place in the country for out-migration is now, right here.

Russell Hancock with Joint Venture Silicon Valley said, "Silicon Valley has been this place that is growing. And it was mostly growing because…people relocating here and relocating from other parts of the world. That's changing."

Joint Venture Silicon Valley's own study of the out-migration says workers are moving to Sacramento, Austin, and Portland due to a number of factors. But topping the list is the high cost of housing.

"You can't even contemplate getting into the housing market here," Hancock said. "And I don't mean just service workers, I mean highly skilled professionals. The tech elite are having a hard time affording reasonable housing in Silicon Valley. So this is difficult, this makes it very difficult for employers trying to recruit."

Operators of a San Jose U-Haul business say one of their biggest problems is getting its rental moving vans back because so many are on a one-way ticket out of town.

Dabak cites crowding, crime and politics as the reasons for her own exodus.

"We don't like it here anymore. You know, we don't like this sanctuary state status and just the politics here," she said.
This is only the beginning too because the state of California is only going to become more fanatically liberal because politicians and liberal celebs just flat out reject the concept of the Electoral College.
An advance warning for more people to flee was given by a recent story in the Washington Post.
Via the WaPo "Think California politics is on the far-left fringe? Just wait for the next elections":
For those who think California politics is on the far-left fringe of the national spectrum, stand by. The next election season, already well underway here, will showcase a younger generation of Democrats that is more liberal and personally invested in standing up to President Trump's Washington than those leaving office.

Here in the self-labeled "state of resistance," the political debate is being pushed further left without any sign of a Republican renaissance to serve as a check on spending and social policy ambitions. Even some Republicans are concerned about the departure of Gov. Jerry Brown (D), who proved to be fiscally cautious after inheriting a state seven years ago in deep recession.

The race to succeed him, as well as contests for U.S. Senate and statewide offices, probably will feature a November ballot exclusively filled with Democrats. The top two primary finishers compete in the state's general election regardless of party, setting up several races between the Democrats' left and even-more-left wings in the nation's most-populous state, races that could signal the direction of the party's future.
Why wait for the CalExit? That the hell out now while the getting's good!
So the unintended consequences of this is that they are moving to my neck of the woods. The same $1,000,000 house in the bay area literally cost $200,000 here. This will inevitably raise housing prices here, which can be good or bad depending on if you already own, or are a first time home buyer.

The biggest issue I see here is that most of the people that are fleeing California in general are still liberals. So they kind of fit in when they move to the urban areas.

I was at the gas pump not too long ago with the old Chevy loaded up for a day of phunn in the hills wearing a mild case of tactical gear and was openly carrying (which I almost never do, except I just needed a splash of gas) and the car next to me had Cali plates on it. I said a nice little hello, and I guess they assumed I was law enforcement when they mentioned they had never seen an unmarked police vehicle like mine before.

I said, "No, I just live down the street and a few of my buddies are going shooting and practicing some tactical drills," I don't think I have ever saw a face go white faster than theirs. They noticeably picked up the pace of getting in the car and driving away.

Maybe that's the way to scare them off, I don't know.......

Brother, the mass exodus from BOTH Left coasts into fly-over country in MANY cases isn't unintentional. And it's been going on for some time now with little attention as possible paid to it.
Similar to the necessary influx of migrants from "sh*thole" countries everywhere invading the United States, unabated for decades but has drastically increased in recent years, these movements and relocations too are equally as strategic.
The aim is indeed to turn red states blue. A "saturation effort", basically. But even more sinister efforts than just that are afoot.

On the surface, below it and at its core, the Left is evil. As we all know.
There is a deliberate alignment taking place here. All should be concerned and highly aware.

(PS - Loved your story!
SHARE THIS WITH YOUR SOCIAL MEDIA -
No attachment
---